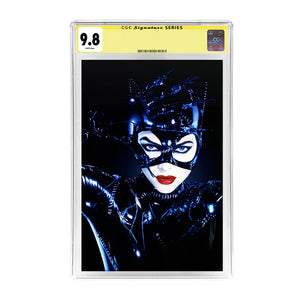 Pre-Order this 2023 Catwoman #1 Photo Cover Variant to be personally autographed by film legend and perhaps the most iconic Catwoman of all-time, Michelle Pfeiffer in silver paint pen during her upcoming, exclusive signing with Celebrity Authentics! Limited to a print run of only 1,000 covers worldwide, only a select portion will be autographed by Michelle and graded CGC SS 9.8 (mint), encapsulate  with The monstrous Penguin (Danny DeVito), who lives in the sewers beneath Gotham, joins up with wicked shock-headed businessman Max Shreck (Christopher Walken) to topple the Batman (Michael Keaton) once and for all. But when Shreck's timid assistant, Selina Kyle (Michelle Pfeiffer), finds out, and Shreck tries to kill her, she is transformed into the sexy Catwoman. She teams up with the Penguin and Shreck to destroy Batman, but sparks fly unexpectedly when she confronts the caped crusader. Ships affixed with Celebrity Authentics serial-numbered Authentication hologram and includes Celebrity Authentics Certificate of Authenticity featuring picture of Michelle signing the comic.  An extraordinary piece for the finest CGC collection...and it won't last long!

A special thanks to our friends at Spectral Comic and please note artwork and issue are subject to publisher's final approval.
This may be your one and only time to add her genuine signature to your collection - don't miss this rare opportunity!
Please note that a personalization and/or character name cannot be included under a Quote and must be purchased separately.