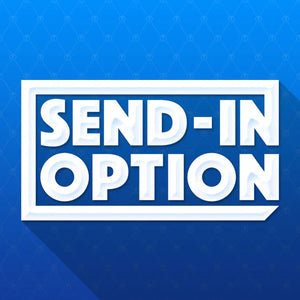 Purchase this Send-In Option to have your item/s:
Standard Send-In Option - photos, posters, artwork, pops, flats, baseballs, trading cards
Oversize Send-In Option - prop replica masks, statues and Batmobiles over 15", screen used items
CGC Send-In Option - Comic
personally autographed by Michelle Pfeiffer during her upcoming signing session with Celebrity Authentics. Your signed item will ship affixed with Celebrity Authentics serial-numbered Authentication hologram and include Celebrity Authentics Certificate of Authenticity. For CGC comics, please purchase the CGC Send-In option.


- 
For multiple autographs, you will need to purchase multiple Send-In Options.
- A personalization and/or character name cannot be included under a Quote and must be purchased separately.
- When sending in your item, please include a note referencing your order number and add a post-it note with any color or purchased Add-On request.
- An oversized shipping fee will be added on 
statues over 15" in size or other similar sized large items.
- We are tentatively setting the deadline date of October 20, 2023, for us to receive your item/s for this signing.  This deadline date is subject to change.  Please note, once we receive your item, we cannot return it for any reason as it will be in storage, securely stored for the signing.  Please include a copy of your Order with your item/s and ship to:
OC Celebrity Marketing LLC
c/o MP

Franklin, TN 37067

USA

Above address is for all parcels being shipped to us by USPS, UPS, FedEx or DHL. A Celebrity Authentics Certificate of Authenticity will be provided featuring a general picture of Michelle from the signing.