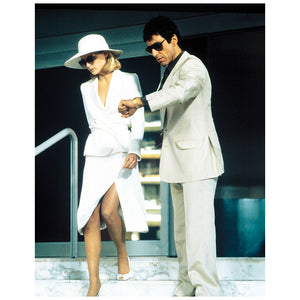 Pre-Order this 1983 Scarface 11x14 Couple Photo to be personally autographed by film legend, Michelle Pfeiffer in blue during her upcoming, exclusive signing with Celebrity Authentics! Tony Montana manages to leave Cuba during the Mariel exodus of 1980. He finds himself in a Florida refugee camp but his friend Manny has a way out for them: undertake a contract killing and arrangements will be made to get a green card. He's soon working for drug dealer Frank Lopez and shows his mettle when a deal with Colombian drug dealers goes bad. He also brings a new level of violence to Miami. Tony is protective of his younger sister but his mother knows what he does for a living and disowns him. Tony is impatient and wants it all however, including Frank's empire and his mistress Elvira Hancock. Once at the top however, Tony's outrageous actions make him a target and everything comes crumbling down.  Ships affixed with Celebrity Authentics serial-numbered Authentication hologram and includes Celebrity Authentics Certificate of Authenticity featuring picture of Ms. Pfeiffer signing photo. Additional options include: Personalization (example: "To Kelly"), Character Name (example: "Elvira Hancock") and Quote up to 5 total words.
This may be your one and only time to add her genuine signature to your collection - don't miss this rare opportunity!
Please note that a personalization and/or character name cannot be included under a Quote and must be purchased separately.